Welcome to HAASpromotions.com
We are your complete home for all of your promotional product needs.
Our focus is on quality and to provide fast and superior service.
We appreciate your feedback to help us maintain our quality and service while we meet your specific needs.
Marilyn and Diana are excited about working with you to maintain the service you're accustomed to receiving while providing you with new and easier options from which to choose. We are hopeful that this website serves as yet another tool for us to keep you informed of new ideas and growing services at the touch of a finger.
Let our creativity grow your business!
Featured Item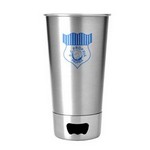 Brew Cup Opener
Stainless steel beer cup w/ domestic & imported beer openers. Serve up a classy beer in a stainless steel cup. Safe and unbreakable. Ideal for tailgate parties, camping, barbecues, poolside, beach, ou...